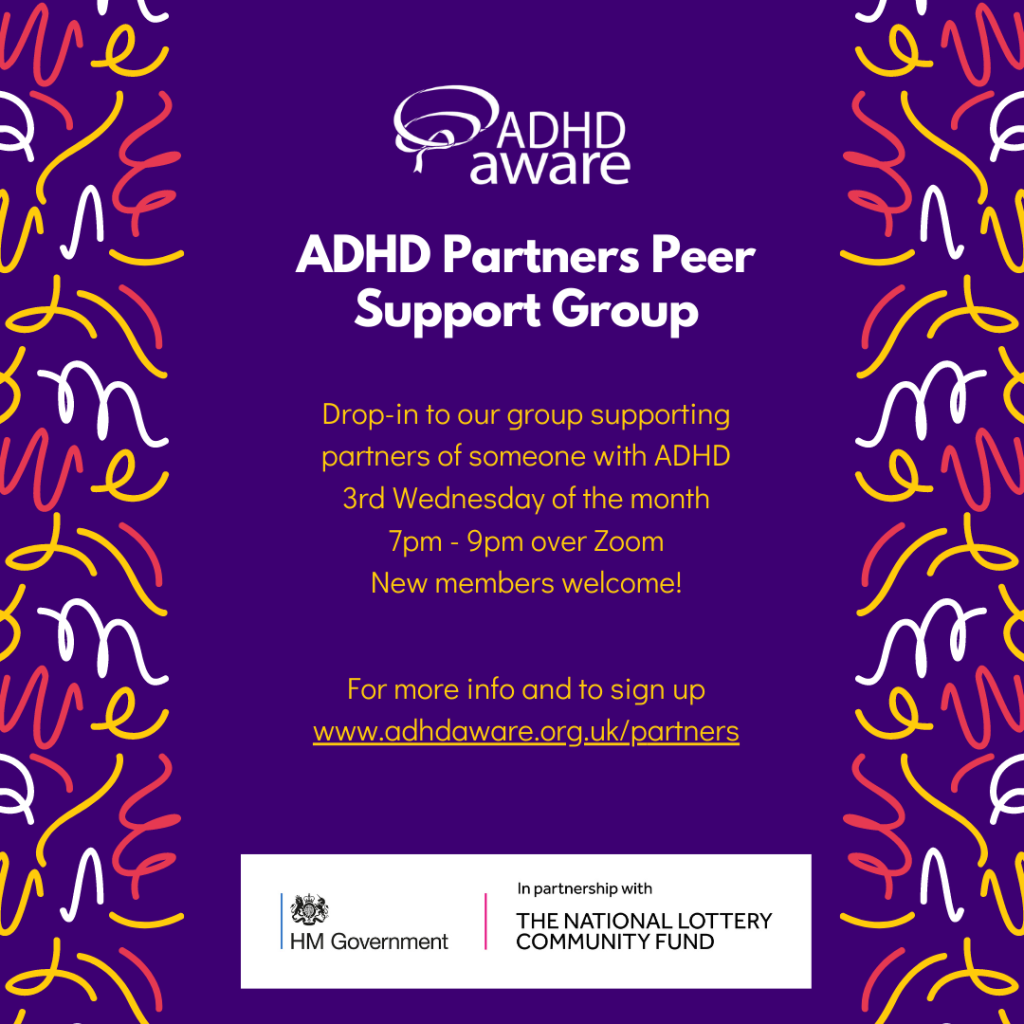 If you are living with someone who has been diagnosed with, or suspects they have ADHD, you are welcome to attend our Partners Peer Support meetings. The peer support we offer during the session is focused on the challenges for partners. These are held on Zoom every third Wednesday of the month 7pm - 9pm.
In our sessions you can share stories of how ADHD can affect relationships. You love your partner and want to support them, but there are some challenges that can get in the way:
They can't sleep or sleep at different times to you?
It is difficult to communicate about things without it being taken the wrong way?
They are sometimes prone to being angry and frustrated?
They spend hours playing games or researching on the internet?
They lose track of the time and are often late?
Testimonials
"It's one thing to know there are other people out there going through the same things but another to hear it directly from them. There is not a lot of guidance to do with ADHD so sharing things that each have tried (some of which worked) is great. It's very different talking to someone who lives with a partner with ADHD than friends/family…"

Harriet from the group
"Main issues? Where to start! Things being forgotten….financial disorganisation and more, but all of these can be worked around and are all offset by the positives."

Laura from the group
Who this meeting can help
These meetings help people who have a partner/husband/wife/spouse with ADHD. These are available to people who live anywhere in the UK and internationally, not just people from the Brighton and Hove area. As with all our meetings, this is an opportunity to meet people who are experiencing similar challenges, have similar lived experiences and ultimately, to share coping strategies and support. We have volunteer peer supporters and can usually offer a one-to-one session within the zoom meeting for those who feel they could benefit.
This session is not recommended for people who have ADHD, though they are very welcome to join our monthly Drop-In or Group Discussion sessions.
If you have ADHD yourself, tell your nearest and dearest to come to this meeting! We are only as strong as the foundation of support that we have in our lives.
When?
We meet on the 3rd Wednesday of each month from 19:00 until 21:00 GMT on Zoom.  Find the latest upcoming events on our events calendar.
Where?
Before the pandemic, these meetings were regularly held at the Brighthelm Centre, North Road, Brighton, BN1 1YD.  When it is safe to do so, we will resume holding them there or in other locations around central Brighton.  For the time being, these are generally held via Zoom.
How?
Please sign up to our mailing list to receive the Eventbrite event invitations. Registration is required for each session. Once you are registered we will send you the Zoom link with Eventbrite before the meeting starts. You can also sign up for meetings through our private Facebook group: www.facebook.com/groups/adhdpartner
Any questions?
If you have any queries, please contact events@adhdaware.org.uk