ADHD Aware Film: our members' experiences of living with ADHD
ADHD Aware, a Brighton based charitable organisation that runs peer support groups for adults with ADHD, is pleased to announce that we have produced a film that explores what it is like 'Living with ADHD'. The challenges, unique skills and the impact of peer group support.
Taken straight from footage of genuine users experiences who attend a support group in Brighton (UK), and with some interesting insights from a trainer, this frank short film focuses on the challenges and difficulties around living with ADHD and everything it brings with it – including inattentiveness, hyperactivity and mental health-related problems like depression and anxiety. Individuals also touch on the common addition of other neuro-diversities and the impact of all of this on their study, work, relationships and personal lives.
The support group members discuss their journey – how they got diagnosed and how transformational treatment has been. They talk about the benefits of attending support group meetings and the solidarity in meeting people who understand them. How increased self awareness can open up the potential to manage symptoms and function differently, often more effectively.
Crucially, they discuss how misunderstood they can be and judged by others in society. As Naomi, a user in the film says "There are so many facets to ADHD…A lot of people think its… young children, especially boys…a condition for them"
At ADHD Aware, we really hope that this film can help raise awareness that ADHD is a lifelong condition with a wide range of symptoms – not just the society stereotype of disruptive boys in the classroom.
Watch the film below
We are really delighted to be releasing the 'Living with ADHD' film so we can help raise awareness about Adult ADHD in the UK. In 2011, an article featured in the British Medical Journal titled "Adults with ADHD: ignored and under-treated". Since then, despite updates to the NICE guideline, the situation with service provision has not improved (and in some areas it has got worse).
Like some of the people in our film, in order to get treatment, many people have to recognise their own ADHD symptoms and then often face an uphill struggle to gain access to assessment and treatment services. ADHD, when not treated or managed properly, can have a significant negative impact on relationships, education and career prospects, and can impact overall mental health and wellbeing. It doesn't have to be this way………ADHD is a very treatable condition and can have good outcomes when it is managed correctly.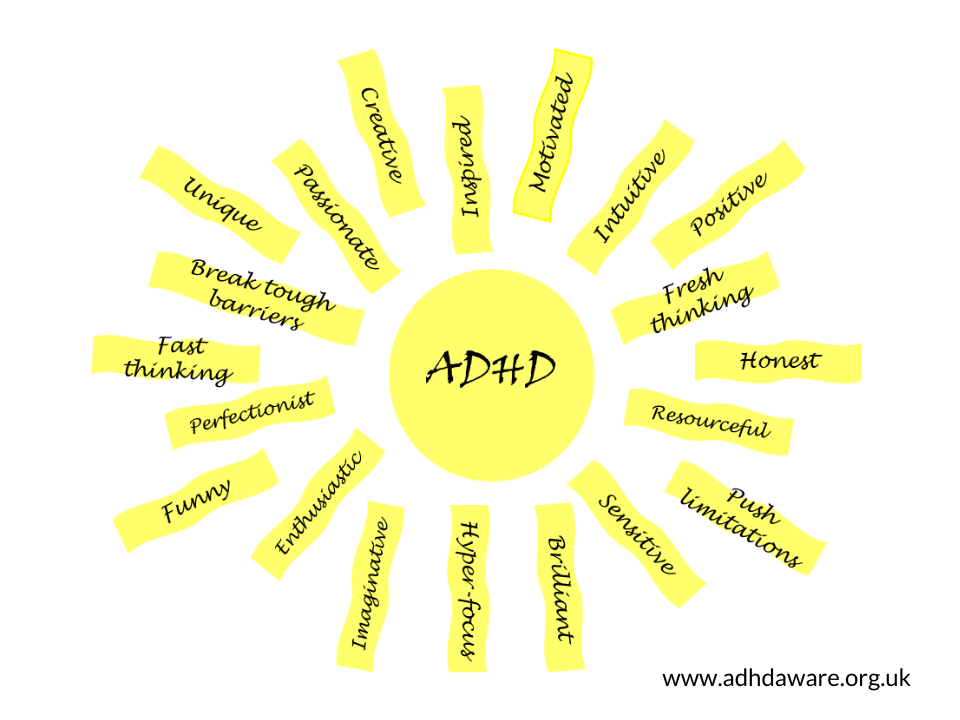 Once treated, many people with people with ADHD can thrive. As Claire, a trainer in our film 'Living with ADHD' says "there is a real brilliance to a lot of the characteristics of people with ADHD". In fact, many famous people have talked publicly about their ADHD, such as Wil.i.am, Simone Biles, Rory Bremner, Michael Phelps….And many more have been posthumously diagnosed, such as Albert Einstein, John F Kennedy and Thomas Edison. Even though ADHD can be a truly debilitating condition, from our experience of support group meetings, when asked, the vast majority say they would not flick the ADHD off switch, even if there was one.
The NICE guideline recommends treatment including medication and talking therapies such as CBT and coaching. However, many support group members also find various coping strategies and lifestyle interventions – like exercise and diet – are also effective. Unfortunately, although it can be effective, treatment is all too often denied to people as many struggle to reach the first step and get the diagnosis.
We are really thankful to our ADHD Aware members who appeared in the film and spoke so frankly about what it's like to live with the condition. We hope that the film will help raise awareness of the symptoms and diversity of how ADHD can manifest. If you are curious about ADHD and would like to know more, then please take a look at our website adhdaware.org.uk. One of the pages that might help, is that we have put together a comprehensive guide for how to get an NHS assessment, even if your local area does not have a clinic.
Another opportunity to get support is to attend a peer support group meeting. For example, Joshua who appeared in our film says, "I'm waiting for a diagnosis…the group help me to identify and understand…it became clear to me [that I have ADHD] just by visiting the group"
An ADHD support group can also be a friendly place to get information on local treatment pathways or also a resource of encouragement and empowerment if people face long waiting lists or brick walls accessing services.
For more information about our support group meetings in Brighton, please see the support group page on our website. We have new members every month and people travel from all over the south east to attend our meetings. If you don't live in the south east, then we also have our a list of national resources in our useful links page (AADDUK.org and it's forum is a good resource for national peer support groups).
We are really pleased with the way this film has turned out, as we wanted the film to represent the diverse range of adults who access our services and for them to tell their story. It would not have been possible without the funding from the Chalk Cliff Trust who funded this project. We really want to thank all of the support group members who were involved in the project both on and off camera. We also would like to thank the film maker William Ranieri who worked with us to create this film.
Please show your support and donate to ADHD Aware today